Hi there! Thanks for stopping by Joanna May Marketing. As you might have guessed from the bare bones of the site, I'm in the process of pivoting my business and rebuilding from scratch. And, in honor of this, I needed a new name and address.
As you may or may not know, I've been working my business May Virtual Assists for almost 3 years. While I loved growing my virtual assistant business and helping other business owners do #allthethings, I've changed A LOT in the services I offer and the skills that I have.
So, it's time for a pivot.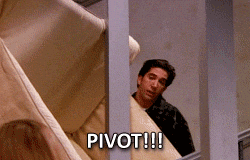 In my years of offering various services, I've found my business loves. So, I'm going to focus my new business on those services.
With this narrowing of my services, I'm going to be better able to meet my clients' needs. I'll also be able to focus my training to develop those specific skills. And, I'll be better able to share my new knowledge on my new blog to help other business owners.
It's a win for everyone!
In case you were wondering, my limited service offerings for the new business name and address are email marketing and automation, lead generation quizzes, and copywriting. Let's look more closely at what those different offerings are.
Email marketing and automations
Email marketing plays a huge role in business growth. A solid email marketing plan can have an ROI of $38 f0r every $1 spent. If you math it out, that's a 3800% return. Can you imagine what that type of ROI could do for your business? 😲
But, email marketing is all about the strategy. You don't just sit down and write a random email to your subscribers. You've got to be strategic in what you send them, when you send them, and where you take them in your emails.
Enter me.
I offer email strategy planning, email copy, and email automations. Whether you prefer a DIY (Do-it-yourself), DFY (Done-for-you), or some combination of the two, I'm here for you.
Lead generation quizzes
I adore quizzes. Maybe it goes back to my time reading Teen magazine when I was younger. Maybe it's because I'm a former educator. Or maybe I'm just weird.
(#spoileralert: It's probably all three!)
Due to my work as blog manager and content creator for Interact, I've learned A LOT about how to build quizzes that work and how powerful they truly are.
I've also had opportunities to guest post on the ActiveCampaign website and Little Bird Marketing, which are both huge honors.
And I've discovered how much I love helping business owners generate leads for their businesses with quizzes. Whether you do coaching, Ecommerce, or course creation, a quiz is an excellent way to connect with people who need what you're selling.
If you're wondering if a quiz is the right choice for your business, let's talk!
Copywriting services
Your business needs solid copywriting services. Whatever you're selling, you need someone who understands the power of psychology and copy that convinces people to buy.
If you know me IRL, you know my passion for words. (Translation: I like to talk!) Now I use that passion to help business owners reach their people and persuade them to buy.
I'm not talking about trickery or sleazy selling—I'm talking about using real strategy and psychology that help people understand what they need and how my clients' products and services can meet their needs.
Whether you're looking for website copy, sales' pages, or other types of advertisements, we need to talk.
That's all I've got for now. I can't wait to show you what's in store for you and Joanna May Marketing!